Yoke Cheong Named 2022 IAPCO Hero Award Recipient for Professional Excellence at ICS: A Reflection of a Strong Team Working Closely Together
PRESS RELEASE
For Immediate Release

February 9, 2023
ICS is proud to announce that Yoke Cheong, Department Head, Project Management and Operations, has been awarded the IAPCO Hero Award for her exemplary leadership and impressive client and staff management skills. The award recognizes an individual that demonstrates an eagerness for professional advancement and consistently achieves at a high level in their career.
Yoke will be presented with this prestigious award during the IAPCO Annual Meeting and General Assembly, taking place February 6 – 9, 2023 in Jerusalem.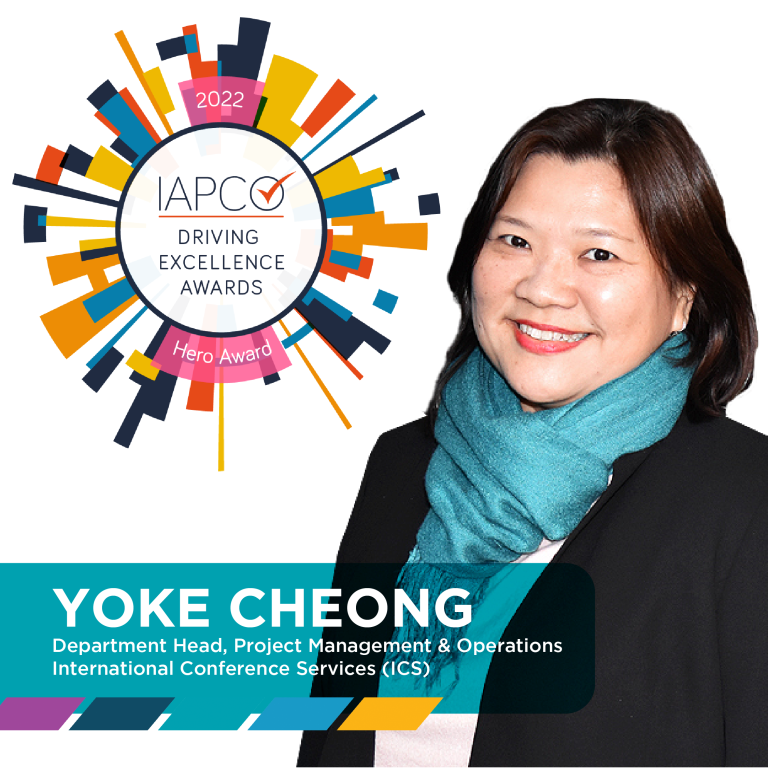 "Being recognized with this important industry award for which she was nominated by her colleagues at ICS is a testament to her meaningful efforts, dedication, and passion for her work. It is also a reflection of the strong team dynamics at ICS, where everyone works closely together to achieve great results." says Grit Schoenherr, Chief Operating Officer at International Conference Services (ICS).
In 2019, Yoke joined ICS with work experience in destination management and tour operations. Despite having no prior experience as a PCO, she has proven to be an invaluable asset, exhibiting creativity, knowledge, and professionalism in all aspects of project management. Her ability to inspire those around her with enthusiasm has proven instrumental in helping ICS reach new heights, particularly during the pandemic. Her unwavering dedication to excellence has led to her promotion to Department Head of Project Management and Operations in January 2022.
"Yoke is constantly seeking feedback and ways to improve her performance for the betterment of herself and the team," says Grit. "She understands that becoming a great leader means being willing to receive feedback and perform to the best of her ability."
The IAPCO Hero Award is one of three highly regarded achievement awards under the IAPCO Driving Excellence Awards program, which strives to recognize excellence in the international meetings industry. Every year one winner is selected for each category.
-30-
About IAPCO 
International Association of Professional Conference Organizers (IAPCO) is committed to raising standards of service among all sectors of the meetings industry by means of continuing education, interaction, and recognition of professionals. 
Learn more at www.iapco.org. 
About ICS 
International Conference Services (ICS) is an internationally recognized full service PCO and AMC with over 45 years of experience managing medical, academic, and scientific conferences and associations all over the world. With more than 100 staff and 8 offices throughout Europe, North America, and Asia, ICS is well positioned to provide clients with the capacity, experience, and knowledge needed to turn plans into reality. 
Learn more at icsevents.com. 
Share this resource with your colleagues.