40 Years at ICS
International Conference Services Ltd. (ICS) was established in 1976 in Vancouver, Canada, and 2016 marked our 40th Anniversary in the events industry. To celebrate this, we created a 40th Anniversary Photobook, which highlights some of our favourite memories and major milestones that we have achieved throughout the years.
Over the next few months, we will be releasing these 40 stories on our website and on social media.These stories are not only a celebration of the past 40 years and all that has been accomplished, but also a commemoration of all of the hard work and dedication (and let's not forget fun!) that our entire team has been a part of since the beginning.
To everyone who is and has been a part of our ICS family - our clients, suppliers and our internal team - Thank You for coming along this journey with us and here's to the next 40 years!
1. How ICS Came to Be
A little bit of background on how International Conference Services came to be...
...While working at the Hyatt Hotel in Vancouver, Franziska Kaltenegger came across an opportunity to buy a small company. Owning her own business was always something that she had intended to do, so she asked an industry friend to take a leap with her and buy this company. Together, they purchased the company in 1976 and called it CanWest.
Two years passed, and in 1978, Franziska's partner made the decision to begin a family, and thus, Franziska, packed with determination, imagination and drive, decided to keep her company going and push further into the events industry, rebranding CanWest into what we all know today as International Conference Services Ltd. (ICS).
In the early stages of ICS, one of Franziska's friends who worked for Air Canada suggested that she extend her event management services into the world of conferences. In particular, conferences from Europe, an idea which would eventually serve to propel ICS to not only national, but international recognition.
By expanding ICS services from corporate, incentive and destination management into conferences, Franziska was better able to plan for her company's future. By going after and winning conference proposals, Franziska could be strategic about how many events she would need to manage each year, in order to ensure ICS' continued success.
Franziska's determination to succeed has laid the building blocks for how ICS is run today. ICS has been responsible for putting on some amazing conferences all around the world (some of which will be featured here), and all of us at ICS are so appreciative of her guidance and support throughout the years.
2. Getting into the Sponsorship Game
In the 1990's, ICS raised sponsorship for the first time for a large international conference. This was largely in part to Franziska's new found sponsorship skills...
One million dollars was needed to produce this conference. To do so, Franziska knew that pharmaceutical sponsorship would be key. Determined, she set out on her plan to win as much sponsorship as she could.
To backtrack a little bit, Franziska had never tried to secure sponsorship for any of her past conferences. She asked her client to introduce her to the head of the sales department at a pharmaceutical company, trying to utilize his connections as best as she could to ensure this conference's overall success.
Franziska, along with her client, met the above mentioned sales department head for lunch. She was determined to come out of that meeting with a very substantial amount of sponsorship. Her client, on the other hand, was weary of asking for such a large sum of money and throughout the lunch, he simply avoided asking his pharmaceutical friend for any sponsorship at all! During the lunch, Franziska politely "nudged" her client under the table to kindly remind him of why they were in fact having lunch with this Pharmaceutical representative. When some more time passed and Franziska's client still did not ask the most important question and she realized she would have to be the one to do so.
When the pharmaceutical representative got up to use the restroom, Franziska and her client decided that if they wanted the sponsorship, Franziska would have to ask for it herself.
Expecting the pharmaceutical representative to say no, Franziska and her client were both pleasantly surprised when he agreed without hesitation to sponsor the event. He even hinted that he would have been happy to provide them with even more money than what they had asked for!
Since then, ICS has delivered great sponsorship results for numerous conferences taking place not only in Vancouver, but all around the world.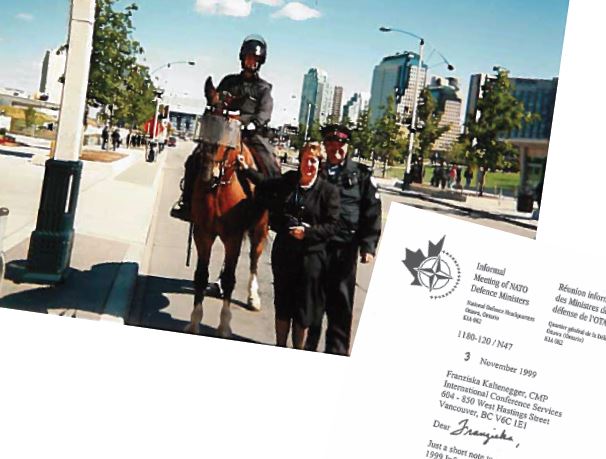 3. World Class Service for World Leaders
In 1999, International Conference Services had the opportunity to work on the Informal Meeting of NATO Defence Ministers which was held in Toronto.
The ICS team, including Franziska and Sandy Biback, built an incredibly strong and trustworthy relationship with the committee even though they had very little lead time to prepare for the actual meeting.
ICS greatly contributed to making the event a huge success. So much so, that both Franziska and Sandy received thank you letters from Bob Corley, of the National Defence Headquarters.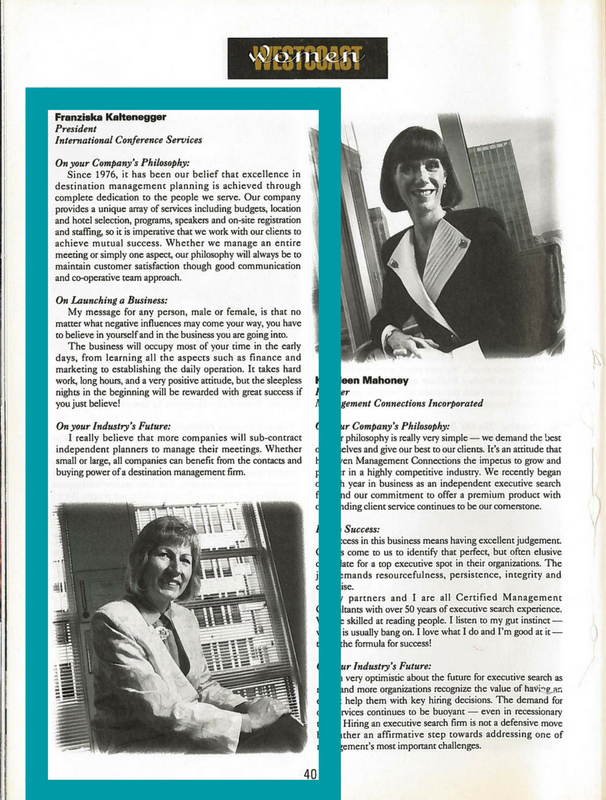 4. Franziska Recognized as an Industry Leader
International Conference Services' President Franziska Kaltenegger was featured in WestCoast Magazine.
The article highlighted ICS and former president Franziska's views on ICS' philosophy, on launching a business and what she thought about the future of the events industry. The article was not only a spotlight on our company, but also a fantastic feature on Franziska as a strong and dedicated woman spearheading ICS.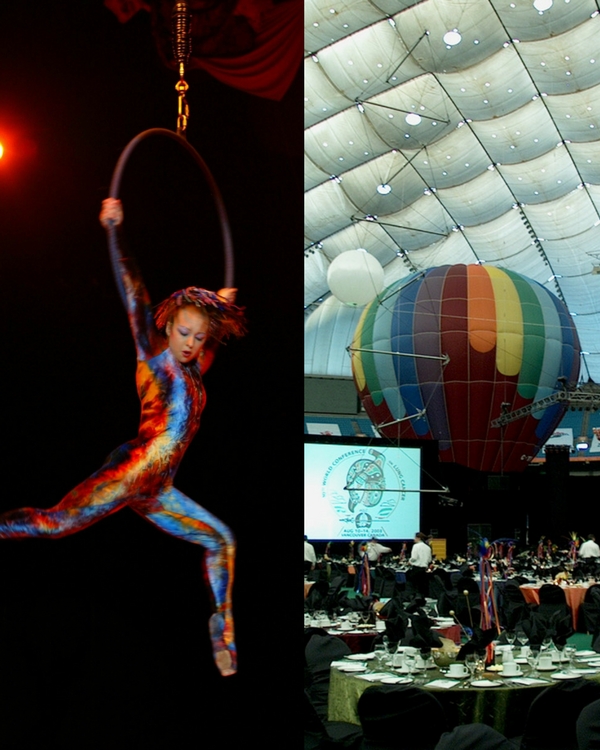 The Beginning of a Long Standing Relationship
International Conference Services managed the World Conference on Lung Cancer (WCLC) for the very first time in 2003, which also marks the year that our longstanding relationship with the International Association for the Study of Lung Cancer (IASLC) really began.
To this day, WCLC 2003 Conference Chair Dr. Nevin Murray remains a great friend of ICS and Franziska, and IASLC is one of ICS' most important clients. Overall, this conference was hugely successful allowing the association to grow. The social program included a magnificent performance by Cirque du Soleil and a hot air balloon in BC Place during the Gala dinner evening!